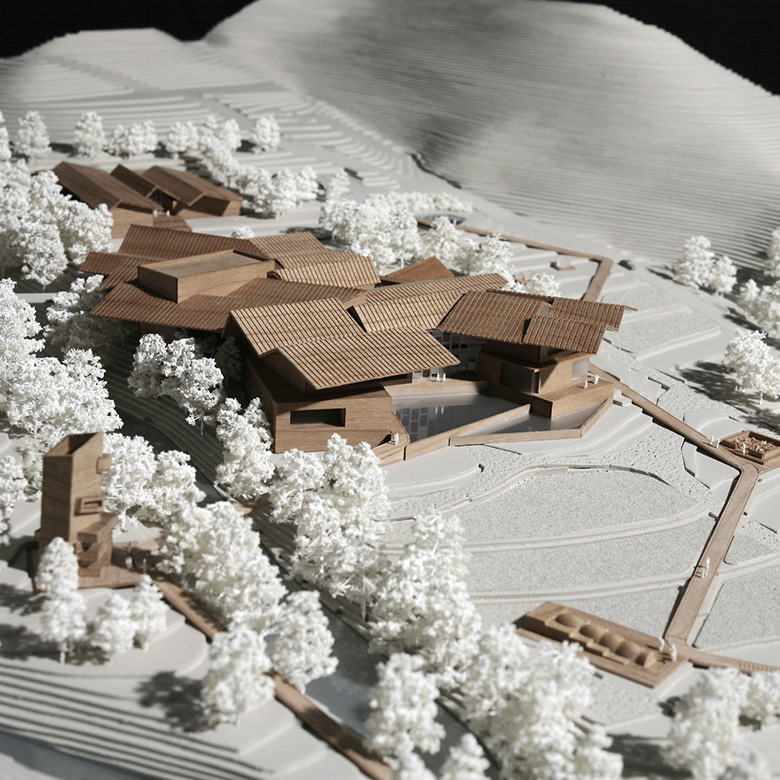 POTTERY MUSEUM COMPETITION, GOHEUNG_2013
"덤벙 분청 문화관 건립사업" 건축설계경기
http://www.archdaily.com/449398/winning-entry-for-new-pottery-museum-in-south-korea-pwferretto-utop/
.
사업개요
가. 위치 : 전라남도 고흥군 두원면 운대리 144-1번지 일원
나. 부지면적 : 97,029m2
다. 건축물 연면적 : 덤벙 문청문화관 - 8,359,  별관 - 1,122
라. 사업기간 : 2013년 ~ 2016년
마. 건축물 용도 : 덤벙분청문화관 (역사문화관, 설화문화관, 분청전시관)

The concept of the project can be understood in 4 primary steps:
 
Genius Loci
The starting point for the new DONGBONG Museum is to create a harmonious balance between museum and context; where building and nature don't compete or dominate but can work together.  For this reason we opted not to create a "object" type building but integrate a series of smaller buildings into the existing fabric, working with the "Genius Loci" of the site.
 
Traditional Village
The program is distributed into a series of houses that are scattered onto the landscape similar to how a traditional Korean Villages are formed, considering orientation, views, topography.  The position of each mass creates two important spacial phenomena:  firstly the in between spaces become the new public space of the museum accommodating facilities such as the lobby, circulation and viewing platform; secondly these spaces act as openings to the surrounding engaging visitors with the amazing natural beauty.
 
Landmark Roof
The clustered of "houses" becomes unified into a single museum building  by a roof system that both encloses the spaces and gives a strong sense of directionality to the visitors.  This new roof-scape in turn becomes the landmark gesture, acting as a gate to the visitors arriving to parking site.
 
Nature Journey
Building and Nature work together to create a synergy.  To enable this interaction  we have created a Pavilion walkway, a series of 7 pavilions scattered onto the site where people can be illuminated
written by Peter Ferretto _ WWW. PWFERRETTO.COM
Status : Competition Winning Entry _ 현상설계 1등 당선
Site : Goheung, Korea _ 전라남도 고흥군 두원면 운대리 일대
Size : 9,600m2, B1F / 2F
Program : Museum
Design Team : 피터, 최성열, 변희영, 유소라, 신은주, 이예진
Collaboration 
- Architecture : PWFERRETTO
- Local : U-TOP 
- Interior, Exhibition : MIRESEUM, IDEST
고흥 덤벙분청문관 현상설계경기는 지방 설계사무소(U-TOP)와 전시전문업체(MIRESEUM) 컨소시엄로 작업한 계획안이였다. 등록단계부터 철저한 준비를 하였고 현상설계 기간동안 최선을 다하여 계획안을 발전시켰다. 그리고 드디어 당선작을 만들어냈다.
.
eSou architects + PWFERRETTO _ Competition projects
- 서울 현대미술관(기무사) _ 2010
- 서울 역사박물관 _ 2010
- 창원 노동복지회관 _ 2011
- 대전 청소년문화센터 _ 2011
- 남산 버스정류장 _ 2011
- 세종 국무총리공관 _ 2011
- 부산 오페라 하우스 1차 국제 아디이어, 2차 초청 설계경기_2011,2012
- 경주 고속도로 휴게소 _ 2012
- 청주 국립미술품 수장보존센터 _ 2013
- 코펜하겐 안데르센 박물관 _ 2013