2023 부산국제건축제, Busan International Architecture Festival
부산국제건축제 주제전 일상의공간_카페건축 


주관 : 부산국제건축제
작품참여 : ASCEND,어센드 + ITA LOUNGE, 이타라운지 
일시 : 2023.09.20~2023.09.24
장소 : 부산 벡스코 제1전시장 

전시영상, 패널 및 모형제작 : 이소우건축사사무소  안영주, 김혜진, 이주은, 이다경, 박승진, 구재욱
전시설치 : 파츠 
ASCEND is the name created by the client who understood the design intent of the building located at a steep slope. Another ramp of this building one is faced with at the sloped road provides an opportunity to awaken our blunted senses through the activities of climbing continuously and experience the forgotten landscape of downtown Masan.
We intended to maximize the opportunities of bodily experience through climbing. The access ramp starting from the frontal road, the stepped lounge vacated like a telescope at the center of the cafe, and the dark ramp leading to the rooftop are superposed vertically so as to create a profound boundary. The continuous space created in this way integrate the structure and circulation of the building, extending toward the rooftop that overlooks the seashore of Masan.
Continuous spaces cause ceaseless movements leading visitors to new unexpected experiences. Upon climbing the slope, one can see the landscape behind the counter, naturally becoming curious of it and climbing up the building. In this process, visitors can observe the cityscape which is open even to a limited degree and experience diverse spatial changes created by light and level variations. An intentionally vacated space is provided to maximize the sense of place in terms of its values. We expected this place, ASCEND, would be the space that everyone can remember as their own place.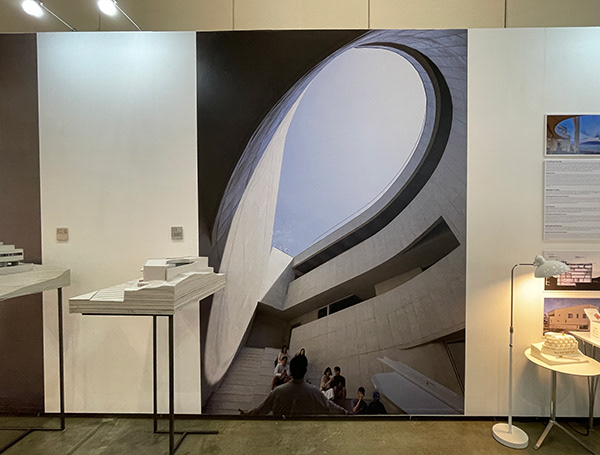 Tongyeong is a historic city where many relics are scattered all over and a cultural city where many artists have been active. Also an artist from Tongyeong who majored in vocal music, the client intended to create a cultural complex where classical music can be accessible, comfortable, and enjoyable to everyone, so as to contribute to revitalizing the hometown.
The "ITA" of ITA_Lounge is a borrowing from the "Ita" of Italy as well as from the Korean word pronunciation, Itasim, which means "altruism."
ITA_Lounge has a low, horizontal, and closed volume to comply with the cultural heritage impact assessment and the building height restriction. Instead, a deep courtyard was designed on the center of the site as a void space surrounded by curvy walls. The courtyard is not visually recognized from outside, but can be so with the sound flowing from the continuous curvy walls leading inside and from the deep courtyard.
At the deeply vacated courtyard, the light, shadows, and musical sounds take place by the change of time and seasons. Extraordinary as it is, the space makes visitors feel comfortable. Also, the main space of this building is open to the neighborhood residents and all visitors without any obstruction or border, so that they can enjoy many cultural events held there.